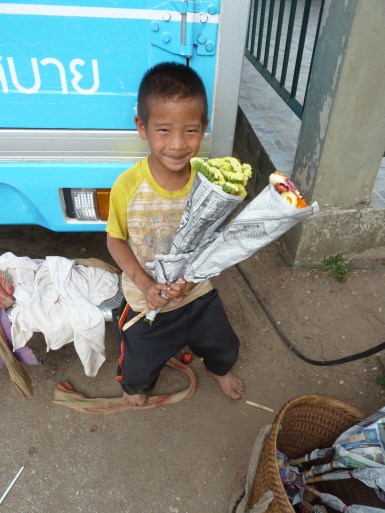 To escape murder, rape, enslavement, forced labor, and torture you realize your only opportunity of survival is to flee your home country – the only land and community you have ever known. The only trees you have memorized climbing to find fruit, the only plants you know that heal your wounds, and the only shelter you have built with your own two hands – will all be left behind. It may take you days, weeks, or months to get to the border and even there you know you will experience hardship. You will risk stepping on landmines, catching malaria, dehydration or worse – getting caught and detained. Your community will most certainly be split up and quite possibly your family, too as you search for the closest place for safety. There are these "refugee camps" you have heard about…where you can find free food, shelter, and medical care, but you personally know people who have died in there. And many friends who have left the refugee camps in search of decent food, more complex medical care, or to earn a living, have been caught and returned to their country – only to be murdered for leaving in the first place. You have also heard of these IDP (Internally Displaced Person) camps. They would be closer to get to but they are more like a glorified prison, not to mention a death and disease trap, you were warned.You look down at yourself. You have two legs that work well for now. You know you simply cannot stay.
This is the all too common story for refugees from Burma who flee to Thailand to seek refugee status at the border camps, most of whom are Karen, the largest indigenous ethnic group in Eastern Burma. And sadly, this exodus has been going on for more than 30 years. More than 150,000 people in varying ethnic groups from Burma have scattered themselves in somewhat safety in nine camps situated at the border of Thailand and Burma. I say, somewhat because the Burmese military have been known to set these camps on fire, as well as to open fire on the camps, killing hundreds of refugees and destroying homes, churches, and schools. Because of this, rules have been put in place that require refugees to stay within the confines of the refugee camp or else be detained and/or deported. That being said, there are more than two million Burmese refugees residing in the congested urban areas of Thailand like Bangkok and Chiang Mai. And though it is illegal for them to work in Thailand, many are able to find jobs, most especially in labor. What began as an ethnic cleansing, has become a slow, ethnic genocide.
Without international funding, these refugee camps wouldn't exist at all. The U.S. claims to directly support these nine refugee camps. The problem I keep hearing about is that most of the international aid is now going to organizations working inside Burma, severely restricting food supply, educational opportunities, medicine, etc. in the refugee camps on the border. Not to mention lack of protection. More and more refugees are looking outside for opportunities or are succumbing to deep depression or other mental illness which tops the list on health concerns within the camps. To read an excellent article or watch a short video analyzing the political situation in Burma as well as information on the current refugee camp statistics and their specific needs, click here.
Why is this even happening, you ask? Read here.
One camp in particular that I visited is illegal, at best. There are more than 400 Burmese refugees who have fled these camps and found refuge here near the town of Mae Sot. This is a small settlement in comparison to the populations at the formal refugee camps, the largest of which holds more than 40,000 refugees. But this camp, however small, has quite a magical story linked to it that I must share.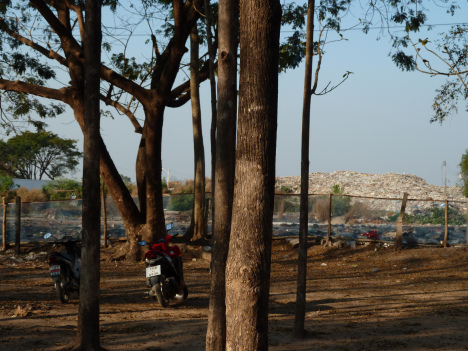 While working in the Mae Tao Clinic I met a great group of American military medics who were doing rotations through the clinic but then spending their afternoons working in a place they called "The Dump." As I got to know them more during my time Mae Sot, I inquired about this place. It turns out, it was actually a dump where Thailand trash wound up and a community of exiled Burmese refugees had discovered work there, sorting through trash for recyclables (a very common job for people in impoverished communities).
Seven years ago at the age of 63, a British man named Fred was taken through the dump as a (mostly retired) photographer and he found that he simply couldn't leave. What he witnessed haunted him and retirement quickly became out of the question. He sold all of his belongings in Ashland, OR, where he had been living, and relocated alone to Mae Sot, Thailand. What began with simply helping the dump residents with basic needs such as sourcing clean drinking water, food, and medicine, turned into supporting a quite sophisticated group of workers in finding their own unique, empowered economy.
While in Mae Sot, I spent a couple of days out at the dump supporting the medical efforts at their informal clinic by offering acupuncture and herbal medicine. With my busy and full days in the Mae Sot Clinic, this simply wasn't enough time! Infected wounds, malnutrition, urinary tract infections, and gastritis are some of the most common ailments I witnessed come through the clinic. I worked alongside Team Rubicon, a military disaster response team who, it turns out, are a wonderful group of American guys with a great sense of humor and superior Western medical skills. With some extra time here and there at the dump, I offered a few of these guys acupuncture treatments, most of whom had never received it before!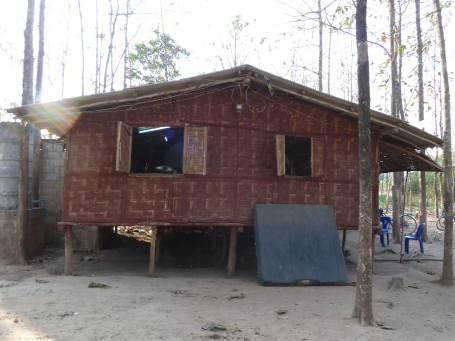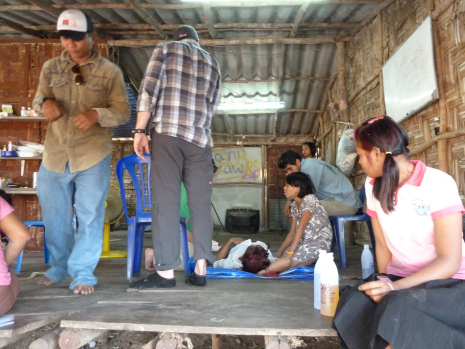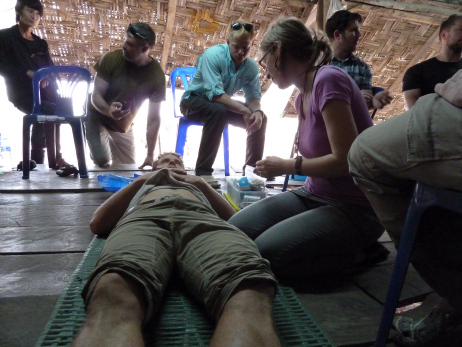 And I need to say that Fred is nothing short of inspiring – though I think he would argue with me for writing that! Please do watch a video about this incredible organization that has come from Fred's dedication to a small, but incredible group of refugees. And if you are inspired, you could read more about Eyes to Burma, his 501(c)3 and/or make a donation to his worthy cause here.