(We hired a local painter to make an Inner Ocean Empowerment Project banner for our Health Camps – this is the banner in it's creation!)
"What day is it?" we keep asking each other. That's what happens when it takes two days of air travel to arrive at our destination: Kathmandu, Nepal. And just when we finally figure it out, it's time to head to the mountains and lose connection with the rest of the world!
These last few days have been chocked full of activity! We've been busy adjusting to the new time zone (completely opposite from what most of us are used to!), the new sights, sounds, smells, and traffic of Kathmandu, finding those last minute things that we need for our trek, and packing, re-packing, and packing again!
Tomorrow morning we will leave very early to start our ascent into the Himalayas. We have about a 6 hour drive and a short trek to our first camp. The best part: we all made it here, we are all healthy and so excited to be heading out for this important work.
We will be a group of about 8 healthcare practitioners (nurses, doctors, acupuncturists, herbalists, massage therapists), 4 medical translators, and about 20 support staff to help us carry our supplies (food, water, camping gear, medical equipment, etc.) We will be our own small village as we head into the mountains tomorrow!
For now, here are a few pictures! Enjoy and we will send more your way in about 10 days.
Please remember, none of this would be possible without any of you and your support for us!
Thank you from the bottoms of our hearts.
This is our gang from left to right: Katie, Mindi, Chris, Bonnie, Dr. Shyam, Kenna, Kristi, Beebal.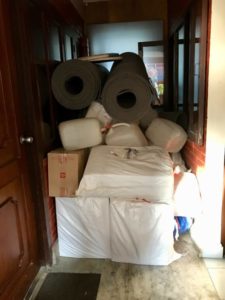 Just a small fraction of the clinic supplies we will be taking into the mountains!
Just spending a few hours at the airport checking in with 370 lbs of herbs, acupuncture and first aid supplies.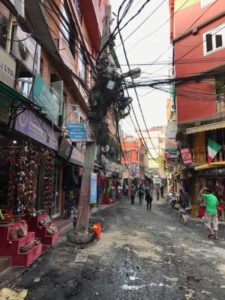 Admiring the high-tech, super savvy electrical system in Nepal…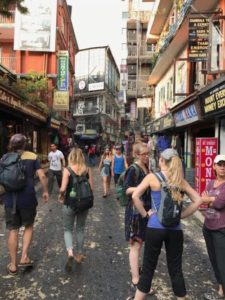 Doing a little training on how to bargain for what you need in Nepal.
Bon voyage!